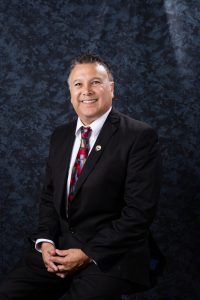 The Harlingen Area Chamber of Commerce would like to welcome its new CEO/President, Javier De Leon.
Javier De Leon is a native and a product of Harlingen CISD. He has served the HCISD Board of Trustees since 2005. In addition to his service on the School Board, he also holds the position of Executive Vice President of Government Affairs at Texas State Technical College in which he has been employed for over 30 years. De Leon's responsibility includes legislative and agency outreach as well as serving as liaison to elected officials and community leaders throughout South Texas.
His work in public administration and experience is why his biography was accepted for publication in the Chancellor's list at UT Pan American. Only 1% of the students from the nation's 3,000 colleges and universities are honored this way each year. Mr. De Leon currently serves on the Lower Rio Grande Valley Council development Council (LRGVDC), Rio Grande Valley Partnership Board, Rio Grande Vision Board, Rio Grande Valley Lead Board, and is Chairman/Commissioner for Cameron County Civil Service. Mr. De Leon previously served on various boards including the Rio Grande State Center Board, Harlingen Planning and Zoning Appeals Board, Harlingen's Youth Council Board, UT Houston School of Public Health, Regional Campus at Brownsville, and Leadership Harlingen. He and his wife, Rose Marie – an educator of the Harlingen CISD, have two children, Stephanie, and Monica, who are Harlingen CISD alumni.
In 2019, Mr. De Leon was part of the team recognized as Board of the Year by the Texas Association of School Administrators.